How Orthotics Can Improve Your Foot Health
How Orthotics Can Improve Your Foot Health
posted: Aug. 25, 2023.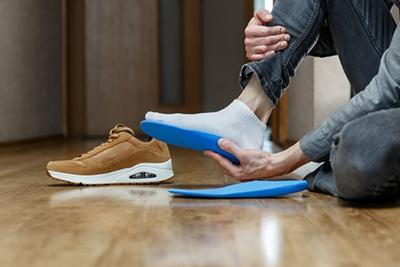 If you suffer from foot and ankle pain and can't find shoes that provide the right support, Dr. Eric Arp at Arp Foot and Ankle Clinic in Mountain Home and Harrison AZ provides custom orthotics to help suit your needs.
7 Key Ways Orthotics Improve Foot Health 
Considering orthotics but unsure if they are the right move for you? Dr. Arp at Arp Foot and Ankle Clinic in Mountain Home and Harrison AZ shares seven ways they can help below.
Cushion and Support for Your Life 
No matter what type of shoes you buy or how much you pour into them, it can be very difficult to find a pair that fits your feet properly and provides the support you need. Custom orthotics make up for this, as they are designed specifically for your feet. They allow you to move through your day and all your tasks with the comfort and support you need.
Arch Support 
Arches – or the lack thereof – can lead to many issues, injuries, and types of pain in the feet and the entire body. Custom orthotics help prevent these issues through personalized arch support.
Weight Distribution 
Arches and other issues with foot mechanics can cause your weight to be poorly distributed. This leads to joint issues, foot pain, heel pain, inflammation of the foot's soft tissues, and problems throughout your body. Orthotics ensure that your weight is distributed evenly as it should be.
Injury Prevention
A lack of support and uneven weight distribution can put too much strain on the muscles, ligaments, tendons, and other soft tissues of the feet and ankles. By addressing support and weight distribution, orthotics take undue stress and strain off the soft tissues and prevent related injuries.
Joint Relief 
The joints tend to absorb a great deal of shock when you walk, run, or move. Orthotics can take this job from the joints by absorbing the shock instead.
Correction for Abnormalities
Whether it's arch issues, toe deformities, or something entirely different, orthotics can help address and correct it. The specifics of how this is done depend on the abnormality being addressed.
Prevent Bunions, Corns, and Calluses 
When the feet don't have the proper support or cushioning for your feet, it can easily lead to bunions, corns, and calluses. Orthotics provide the correction and barrier you need to prevent such discomfort and pain.
Learn more about how custom orthotics can improve your foot health by visiting Dr. Arp at Arp Foot and Ankle Clinic in Mountain Home and Harrison AZ. You can schedule an appointment at our Mountain Home office at (870) 425-7363 or our Harrison office at (870) 365-3668.
Tags: Orthotics