Orthotics & Gait Analysis
Custom Orthotics & Gait Analysis In Harrison, AR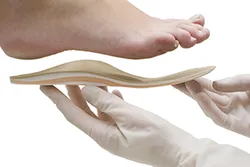 Custom orthotics are medical devices prescribed by a foot and ankle surgeon. These shoe inserts, which support and align the foot and lower extremities are designed to wear inside your shoes to correct biomechanical foot issues such as problems with how you walk, stand, or run. They can also help with foot pain caused by medical conditions such as diabetes, plantar fasciitis, bursitis, and arthritis.
At Arp Foot & Ankle Clinic, we can provide state-of-the-art gait analysis technology, identifying t he eight key foot landmarks (lateral heel, medial heel, five metatarsal heads, and the hallux) to accurately isolate and track throughout the stance phase of gait. This technology will help us create the ultimate fit for your custom orthotics.
Additional valuable information:
Pediatric Flatfoot
Heel Pain
PTTD
Flexible Flatfoot
Want to learn more about the custom orthotics at Arp Foot & Ankle Clinic?
Call our Harrison, AR office at (870) 365-3668 or our Mountain Home, AR office at (870) 425-7363 today to schedule an appointment.